TransElectric: My Life as a Cosmic Rock Star-A Memoir
ORDER NOW!! RELEASE JUNE 6, 2023
"TransElectric belongs on the small shelf of great rock n' roll memoirs. But it transcends the  genre.  Cidny Bullens' story, bravely and beautifully told, is at once about the music, personal truth, and the history of our time." 
CARL BERNSTEIN, Pulitzer-prize winning journalist (and one time rock critic), The Washington Post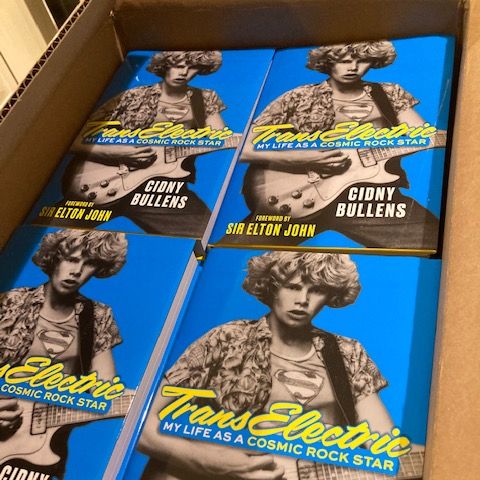 TransElectric: My Life as a Cosmic Rock Star
A Memoir by cidny bullens
"TransElectric belongs on the small shelf of great rock n' roll memoirs. But it transcends the  genre.  Cidny Bullens' story, bravely and beautifully told, is at once about the music, personal truth, and the history of our time." CARL BERNSTEIN, Pulitzer-prize winning journalist (and one time rock critic), The Washington Post
"It's an extraordinary story of an exceptional human being. What a story! What a life!" SIR ELTON JOHN
"Cidny Bullens' journey to his authentic self is deeply personal and highly inspirational. He shines a light on a subject that for far too long many pushed down, few discussed and yet he found a way to his truth". BILLIE JEAN KING—Tennis legend and activist
"Cidny's lived one of the most extraordinary lives of any one I know. Multiple lives really- encompassing some the most compelling cultural and personal crossroads of our time. A firecracker of talent, personality and courage , his story makes for a riveting  and heartwarming reading.  So glad to have been part of the ride". BONNIE RAITT Multiple Grammy winning recording artist
"Cidny Bullens, who has been a great friend and a high order musician/singer/writer since we first met scuffling around Laurel Canyon in the early 1970s, has found home. I was moved by the union of honesty, compassion, and forgiveness in this fearless, TransElectric book." T BONE BURNETT Grammy award winning record producer, composer, and songwriter
Cidny--grew up--before he grew old. This is a memoir of profound and wise transformations that share a single commonality—swaggering musical genius. Love this man and love this book! ALICE RANDALL- New York Times Best- Selling Author of "The Wind Done Gone" and "Black Bottom Saints"
"Cidny Bullens has been tested as few of us ever have. He draws so deeply and intensely and relentlessly from his experience. It's exhilarating and triumphant—the essence of rock n'roll." DAVE MARSH- music critic, and author of "Born To Run, The Bruce Springsteen Story", "Elvis", and "Before I Get Old: The Story of the Who", and "The Rolling Stone Record Guide".
"Cidny's courage and willingness to face the music he was making head on touched the hearts of every musician on the sessions we worked on together all those years ago. I'm pleased that the kindhearted Cidny has finally become rock and roller he'd always dreamed of being. My one word for the book, which I couldn't put down, would be….courageous." RODNEY CROWELL—Grammy Award winning songwriter/producer and author of Word for Word
"A fierce, brilliant memoir of a remarkable rock and roll life – heartbreaking, triumphant, funny, powerful and deeply human.   Cid Bullens writes with a songwriter's eye for emotional detail that will keep Transelectric playing in your head for a long, long time. " JOHN MANKIEWICZ — Executive Producer, The Big Lie (Audible Original), Interrogation (Paramount Plus) House of Cards (Netflix)
"Cidny Bullens' tour de force, TransElectric, kept me reading straight through the night. A life courageously lived, a book bravely written, a story boldly told. I've been schooled. A+ " VICKI ABELSON--Columnist and Author of Amazon #1 Bestseller, Don't Jump: Sex, Drugs, Rock 'N Roll… And My Fucking Mother
"Runaway, rock star, wife, mother, man. Cidny is all these things, and now reveals himself as a wonderful author as well. Honest and emotional, Cidny's story is full of incredible highs and unimaginable lows that left me feeling uplifted and inspired. Cidny writes as boldly as he lives."  ROB ROTH- director of Broadway's Tony award-winning Beauty and The Beast and author of WarholCapote: A Non-fiction Invention
"If you can find a better story, call me!"  MARY GAUTHIER, Grammy nominated singer/songwriter and author of Saved by a Song
"A highly entertaining ride into the world of rock 'n roll--with some very poignant twists." DANNY GOLDBERG Music manager, record company executive and author of Serving the Servant: Remembering Kurt, and Bumping Into Geniuses.
"Raw talent, sharpened by passion; real artistry, tempered by tragedy; a spirit lifted by his own quest for truth with a soundtrack that takes him deep into your heart and transports you into his world. That's Cid Bullens. His story is the real thing". – JAMISON GREEN- Author of "Becoming a Visible Man", Board Member-Transgender Law and Policy Institute, World Professional Association for Transgender Health, Equality Project
"Cid's life, career, and contributions—pulled off with both courage and panache--have been nothing short of extra-ordinary. What a story!" MICHAEL MUSTO, Author of "La Dolce Musto" and "Fork On The Left and Knife In The Back", Culture and Arts Writer- Out magazine, Village Voice, NY Times
"TransElectric" is everything I look for in a great memoir. Honest, insightful, gripping and moving; but it also has to be about something bigger than the author's personal journey. Cid delivers on all fronts.  He is the cosmic role model the world needs right now. T.J. PARSELL—Documentary filmmaker and author of the memoir "Fish"
"Cidny tells his whole story in this brilliant can't-put-down memoir of a time when giants in rock and roll cast long shadows. Cid casts a hell of one here." LUCIAN K. TRUSCOTT IV Journalist and author of "Dress Gray"
"Cid's story is BIG, complicated, and deeply moving." RAY KENNEDY Grammy winning Record Producer